Our Lady Queen of Peace
Location: 849 Old Esquimalt Road, Victoria, BC, V9A 4W9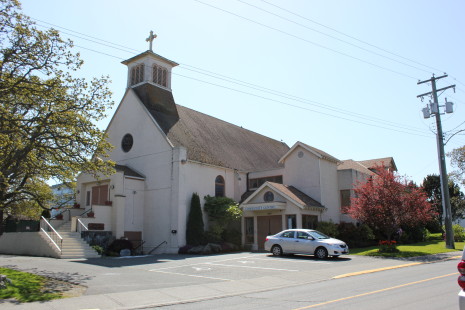 Office Hours
Tuesday - Friday 9:00am - 4:15pm lunch break 12:00pm - 1:00pm
Closed: Monday, Saturday, Sunday.
Confessions
Tues. & Fri: 10:15am - 11:30am
Wed.& Thurs. 11:00am - 11:45am
Saturday: 4:00pm - 4:30pm
Sunday: 9:15am - 9:30am
Infant of Prague: Official Shrine
Special Devotions to the Infant Jesus of Prague are held every Thursday following the 12:10pm Mass.
Mass registration is for Our Lady Queen of Peace parishioners only and not friends and others from other parishes. You may register for one Mass.
Sun. English Mass is full. To register for the Sat. Mass please call 250-384-3884 or email office@qop.ca Masses are at the following times Weekdays: Tues. to Fri.: 12:10 pm Weekend: Sat. 5:00 pm if you are registered for Mass and you do NOT show without giving us notice, your name will be removed from all future registrations. All people must be registered for Mass. Your registration is not confirmed until you have received a reply to your email or your phone call. We need to know the names of everyone from your family who will be attending and not just the numbers. We cannot exceed 38 persons. Deadlines for registering for Mass: Wed. 1:00pm No one will be admitted to Mass once the doors are closed, they will be locked. We are bound to follow protocols and this is an important one as people cannot simply wander in at will. Additional Details: Doors open 30 min. before Mass times. You choose whether to wear a mask or not, Hand sanitization before entering church, Please note bathrooms are for emergencies only, Single file social distancing.